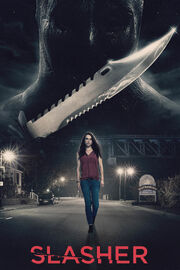 Slasher is a Canadian-American television horror anthology series starring Katie McGrath. Produced in association with the Canadian network Super Channel, Slasher is the first original series by U.S. TV channel Chiller, which premiered the series on Friday, March 4, 2016, at 9:00 pm EST(UTC-05). Super Channel aired the show's Canadian premiere on April 1, 2016.
The series' first season, which centered on a mysterious figure billed as "The Executioner" terrorizing the fictional town of Waterbury, was filmed between July and October 2015 in Sudbury, Parry Sound, and Sault Ste. Marie, Ontario.
Thirty years ago, in the sleepy community of Waterbury, a killer known as "The Executioner" murdered Sarah Bennett's parents. Now Sarah and her husband Dylan have returned to town, only to find herself the centerpiece in a series of horrifying murders centered around the seven deadly sins. It seems "The Executioner" is back. But if Tom Winston - the original Executioner - is behind bars, who is the new person behind the mask? As the murders escalate, long-buried secrets are revealed, making everyone around Sarah a suspect…or a victim.
Slasher is a mystery/horror/thriller. Think Friday the 13th meets And Then There Were None.
Community content is available under
CC-BY-SA
unless otherwise noted.